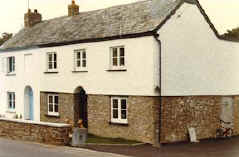 Where it all began on the 21JUL42,
2 Grove Cottages, Yelland Road,
Instow, North Devon, England
Number 2 Grove Cottages is the one with the blue front door, and I was born in the front upstairs bedroom, the one with the window open. Grove Cottage was the home of my Aunt Maude, Uncle Harold and my cousin Betty. Mother was staying with them at the time because my father was overseas in the Royal Navy doing his bit in the second world war.
The above picture was taken in about 1982 but the place had not changed much except for some trendy exposing of stonework and a new paint job. But by 1999 some major changes had been made. When Aunt Maude and Uncle Harold were there it came as part of Uncles job, he worked fore the Tapely Estate who were big land owners in the area and Grove cottage was a workman's cottage. Next door lived a lady who I was to know as Granny Frane, not really my granny, but probably a term of respect.

I came late in my parents life they were 38 when I made my appearance.
I was Baptized at Instow Parish Church on 23 August 1942.